Da-Lite Featured Product: Cinema Contour
May 17th, 2011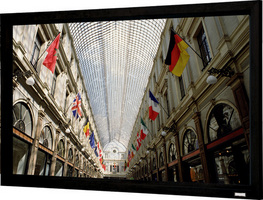 Da-Lite's featured product of the week is the Cinema Contour®. This fixed frame screen provides a perfectly flat viewing surface for video projection applications, and is available in sizes from 60" to 240" diagonal in video format and 77" to 220" diagonal in HDTV format.
The Cinema Contour® has a 45-degree angle cut frame for a sleek, modern appearance. The frame also comes standard with Pro-Trim® finish, a fabric covering that aesthetically enhances the appearance of the installation while absorbing light that surrounds the viewing area.
Optionally, the frame is also available with a choice of seven veneers for an additional charge. In addition, custom veneers can also be matched. (Click here for finish options.)
The Cinema Contour® screen surface mounts to the back of an aluminum frame that provides a masking border. Da-Lite's full line of flexible front and rear projection surfaces are available to meet any projection requirement. Front projection surfaces come standard with a black backing for optimum opacity.
For more information on the Cinema Contour, click here or watch our product video!
« View All Posts
« Back