Da-Lite Featured Product: MPS-D Dual Mobile Flat Panel Stand
April 26th, 2011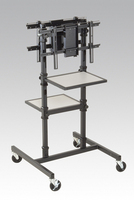 The Da-Lite MPS-D Dual Mobile Flat Panel Stand works universally with most flat panel monitors. The MPS-D's unique rail mounting system ensures an easy installation for the monitors with the added security of a key-operated lock.
The MPS-D will accommodate two monitors up to 50" diagonal back-to-back. Each of the two mounts support up to 100 lbs., with up to 30º of tilt..
This Dual Mobile Flat Panel Stand provides safe and surefooted transport of flat panel monitors with its heavy-duty five-inch casters when navigating uneven surfaces.
Two sturdy adjustable accessory shelves are included and allow for stacking multiple components. (Optional extra shelves can be ordered for added stacking convenience.)
The MPS-D is available in three heights: 60, 72 and 84 inches.
« View All Posts
« Back