Da-Lite Featured Product: Designer Electrol and Designer Da-Tab
April 18th, 2011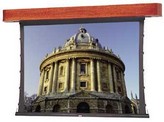 The Da-Lite Designer Electrol® and Designer Da-Tab Electrol® are great for any room (especially boardrooms) where aesthetics are an important consideration. Da-lite gives you the flexibility to choose from six contemporary and traditional case designs, all of which are covered in your choice of seven real wood veneers. (The Cambridge is available in your choice of four laminates.) In addition, custom finishes are available upon request.
The Da-Lite Designer Da-Tab is tensioned for an extra-flat surface for optimum image quality.
The Designer and Designer Da-Tab mount to either wall or ceiling, and feature a patented in-the-roller motor mounting system for quiet operation. For even quieter operation, the Designer Electrol® is available with a silent motor option.
Both the Designer Electrol and Designer Da-Tab Electrol® ship standard with a Decora-style three position wall switch.
For more information on the Designer Electrol®, click here! For the Designer Da-Tab Electrol®, more information is available on this product page.
« View All Posts
« Back