Da-Lite and Milestone AV Announce Merger
April 4th, 2011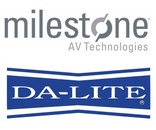 Last week, Da-Lite and Milestone AV Technologies, manufacturer of Chief and Sanus brand AV mounting and display solutions announced a pending merger of the two companies.
The combination of Da-Lite and Milestone will create an industry leader in mounting solutions, AV furniture, and projection screens across both commercial and consumer AV markets. With nearly 1,000 employees worldwide and eight major operating locations around the globe, the combined business will be optimally positioned to continue delivering the customer service and product innovation that have been hallmarks of both Da-Lite and Milestone.
Milestone is headquartered in Savage, Minnesota and was formed from the successful merger of Chief Manufacturing and Sanus Systems in 2004.
Da-Lite will continue to be based in Warsaw, Indiana as an operating subsidiary of Milestone, under the leadership of current Da-Lite President Richard Lundin.
On the merger, Lundin commented, "Da-Lite has a 100-year heritage of product innovation in the AV market. Combining Da-Lite and Milestone allows us to continue our commitment to innovation while bringing the benefits and enhanced opportunities of increased global scale to our customers and employees."
A definitive merger agreement has been signed, and the transaction is expected to close within the next 30 days.
« View All Posts
« Back