Da-Lite Featured Product: Ultra Velour Drapery
March 22nd, 2011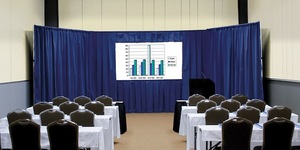 Da-Lite takes the hassle out of specifying draperies for your next event or staging requirement with the newest (and safest!) line of drapery fabrics.
The Ultra Velour line of drapery fabrics is designed and manufactured to meet the demand for inherently flame retardant staging curtains in both permanent and rental applications. The state-of-the-art woven velour offers the maximum in safety with its flame retardant properties.
Ultra Velour features high opacity, reducing light transmission and excellent sound absorption, providing a more "neutral" sound environment. Ultra Velour weighs 10 percent less than our conventional drapery fabric, making it less costly to transport and easier to hang.
The luxurious velour is soft to the touch, offers great hang and exceptional durability. In addition, Ultra Velour is machine washable and holds its color brilliance without dry cleaning, saving a fortune in dry cleaning bills!
Ultra Velour is available in three colors: pewter gray, blue and black; these color tones are designed to compliment most interior decors and staging venues. Ultra Velour is available in Da-Lite's full line of Fast-Fold® Drapery Presentation Kits and Pipe and Drapery Background Systems.
For more information on the Ultra Velour Drapery, click here!
« View All Posts
« Back