Featured Product: Da-Lite Polacoat Rigid Rear Screens
January 15th, 2011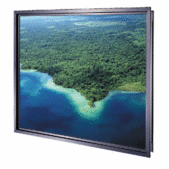 Da-Lite's booth at CES 2011 lat week was abuzz with the addition of the Da-Lite DA-50WA Wide Angle Polacoat rear projection screen with its 0.5 gain and generous 60 degree horizontal viewing cone (see our previous blog post covering the introduction of this screen). Not wanting to leave the rest of the Polacoat product family in the dark, we wanted to take the opportunity to highlight the Polacoat line of screens.
Da-Lite's Polacoat is a series of optical coatings that are permanently bonded to the screen substrate, either Da-Glas (glass substrate) or Da-Plex (acrylic substrate). Polacoat screens cannot peel off like laminated film or vinyl based diffusion screens.
Da-Plex is designed for screens up to 9x18', while Da-Glas supports sizes up to 10x20' (larger sizes are available; contact Da-Lite for more information).
Polacoat is available in 9 different coatings:
DA-50WA (0.5 Gain, 60 degree viewing cone)
DA-75WA (0.75 Gain, Light Gray)
DA-100WA (1.0 Gain, Light Gray)
Video Vision (1.0 Gain, Neutral White)
DA-100 (1.0 Gain, Neutral Gray)
DA-130 (1.3 Gain, Neutral Gray)
DA-150 (1.5 Gain, Neutral Gray)
DA-180 (1.8 Gain, Neutral Gray)
DA-230 (2.3 Gain, Neutral Gray)
Since Da-Lite builds Polacoat screens to-order, Da-Lite has the unique ability of offering custom screen gains for specialized applications. Contact
Da-Lite
for more information.
« View All Posts
« Back