Get a Boost with the Da-Lite Motorized Projector Lift
December 15th, 2010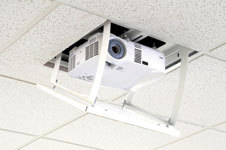 The Da-Lift Series of motorized projector lifts include a variety of different configurations and sizes for the smallest to the largest of ceiling mount projectors. The series includes the Da-Lift 10M, 15M, 15, 19 and19L rack-and-pinion design and the Pivot 26P and 33P, which feature a pivot style retraction system.
The Da-Lift Pivot 26P and 33P support projectors up to 25 pounds. The Da-Lift 10M and 15M support projectors up to 40 pounds and the Da-Lift 15, 19 and 19L support projectors up to 300 pounds with a push of a button.
The Da-Lift 10M, 15M, 15, 19 and19L feature heavy-duty, all metal construction with rack and pinion, chain drive lift mechanism for quiet operation. The bottom of the lift is adjustable for flush installation and can be finished to match the surrounding ceiling. These lifts all include a three position control switch with cover plate.
The Da-Lift Pivot 26P and 33P feature a fixed pivot point that helps ensure proper projector alignment during and after installation. They are available in white powder coated finish and come complete with an Advance UPM-1 universal projector mount, pre-wired duplex female receptacle and duplex plate, internally mounted control switch for installer operation.
Da-Lite's complete line of projector lifts may be ordered with or without plenum covers which meet plenum building codes.
Click here for more information on the Da-Lift series of motorized projector lifts.
« View All Posts
« Back