Da-Lite Adds Larger VESA Flat Panel Mounts
December 8th, 2010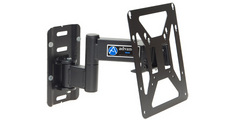 This week, Da-Lite announced the addition of four VESA (Video Electronics Standards Association) standard mounts to their flat panel monitor mount product offering. The new models include the VSML-ST Static Mount, the VSML-TL Tilting Mount, the VSML-AR1 Articulating Mount with 11" Extension and the VSML-AR2 Articulating Mount with 20" Extension.
These additions are available as static, tilt or an articulating mount (two different lengths). All four mounts accommodate most flat panels with industry standard VESA 75 x 75, 100 x 100, 200 x 200 or 200 x 100 millimeter mounting holes.
Each model is load rated up to 40 lbs. and, depending on the monitor's weight, will accommodate monitors up to a 40" diagonal. The VSML-TL provides 5 degrees of negative tilt (top back) and 20 degrees of positive tilt (top forward). The articulating VESA mount is available with an 11" extension (VSML-AR1) or with a 20" extension (VSML-AR2).
All four of the new VESA mounts are finished with a gray or black powder coated finish and offer a five year warranty.
« View All Posts
« Back