Da-Lite Does the Heavy Lifting with the New Mount Selector
November 3rd, 2010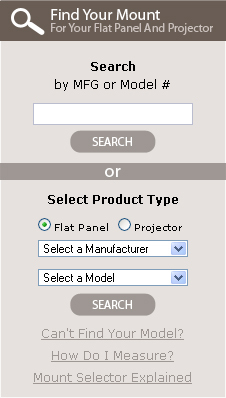 Da-Lite's Mount Selector is an easy way to determine which Advance mount is compatible with your flat panel monitor or projector. You can navigate to the Mount Selector by using the new link on our main page, www.da-lite.com.

The Mount Selector can be used in a variety of ways. Simply enter the model of the flat panel or projector in the search box and the box itself will display a filtered list of displays as you type. If you'd prefer, you can select whether you are looking for a flat panel or projector mount, then enter the manufacturer and be presented with an entire list of available models.

Once you've selected the display model, the site returns a list of available Advance flat panel mounts, flat panel stand and carts, projector mounts, projector lifts and accessories. If needed, there is a Mount Finder Explained link at the bottom that details how to use each feature of the Mount Selector.

If you're a Da-Lite dealer and like the Mount Finder, you can add it to your web site! Your customers can search for Da-Lite Mounts directly from your site, adding a convenient feature to retain site visitors. To obtain the simple source code, click on the Dealers link on the home page or at the top of any other page, or go to www.da-lite.com/dealers. The last entry on this page is a link for the code to add our Mount Selector to another web site.
« View All Posts
« Back