Project Spotlight: The Lewin Group's Corporate Headquarters
October 26th, 2010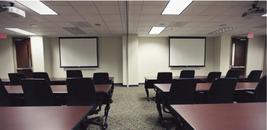 Da-Lite is proud to be part of a featured installation in the August, 2010 issue of Sound and Communications. Graybow Communications, of Minneapolis, MN designed and installed this divisible conference room system with easy-to-use controls for the Lewin Group's corporate headquarters in Falls Church, VA.
As one of the nation's largest healthcare and human services consulting firms, the Lewin Group frequently interfaces with clients via teleconferencing. To support The Lewin Group's videoconferencing and projection requirements, two Da-Lite 100" diagonal Advantage Manual screens with Matte White fabric were selected. The Advantage Manual with CSR is a ceiling recessed manually operated screen that provides a clean look and easy installation of ceiling tiles.
Since Graybow required wide viewing angles and was able to control ambient light, Matte White fabric was ideal for this environment. Matte White fabric is one of Da-Lite's most versatile screen surfaces and a good choice for situations when presentation material is being projected and ambient light is controllable. Its surface evenly distributes light over a wide viewing area. Colors remain bright and life-like, with no shifts in hue.
To read the article in its entirety, click here. To learn more about the Advantage Manual or Matte White fabric, click here.
« View All Posts
« Back