Choosing Projection Screens for 3D
September 28th, 2010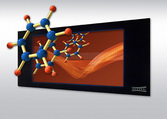 Whether you are using active or passive 3D, Da-Lite has screen options that suit your 3D requirements. Here is a brief description of active and passive 3D and which screen surface should be used for each.
Active 3D uses liquid crystal shutter glasses which synchronize with the video source to display the 3D imagery. Active 3D uses color neutral glasses which greatly improves the color spectrum that can be viewed in projected 3D applications. Active 3D is commonly used for home theater and applications with smaller audiences due to the cost of the glasses.
Passive 3D uses linear or circular polarized filters in 3D glasses, which are far less expensive than the active variety. Passive 3D is much more cost effective for large audiences, such as a movie theater or auditorium.
Da-Lite's wide variety of screen surfaces give you options for your 3D applications.
If you are using Active 3D, you can select any of Da-Lite's proprietary front or rear projection screen surfaces. Select the JKP Affinity HD Progressive series for high definition content in a controlled light environment. This series is specifically suited to the neutral filters used in Active 3D glasses.
If your application uses Passive 3D, you have options depending on whether you are using front or rear screen projection. If you are using front projection, Da-Lite's 3D Virtual Grey is your best choice. If you are using rear projection, Da-Lite's 3D Virtual Black works best. These surfaces eliminate stereoscopic cross talk or "ghosting" by maintaining 99 percent polarization purity, an industry first for 3D projection.
« View All Posts
« Back