Another ProAV Best Of 2010 Installation Features Da-Lite
September 9th, 2010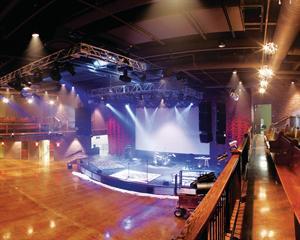 This time, it's the 2010 Best House of Worship AV Project, sponsored by ProAV Magazine, and featured in Church Production Magazine.
Integrated by Mankin Media Systems, from Nashville, TN, this 1200 seat, box style theater at Southeastern Christian Church in Louisville, KY is the newest home for the church's youth program. Southeast Christian Church wanted a new venue for its student ministry that would provide a place for kids to hang out, worship, and learn. Mankin worked with Bayus Design Works to come up with this 75,000 square foot creation, called "The Block", which features a 26 foot wide Da-Lite Fast-Fold® Truss Frame Screen with an Ultra Wide Angle flexible rear screen surface (see the post from earlier this week). Projecting the image onto this massive screen is a Barco FLM HD18 18,000-lumen projector.
Da-Lite is the leader in specialized projection screen applications such as The Block, and the choice of the Ultra Wide Angle screen provides a highly uniform image across the 6000 square foot viewable screen surface.
For more on Southeastern Christian Church, visit their web site here. For more information on Da-Lite's Ultra Wide Angle screen, click here.
« View All Posts
« Back