A Unique Perspective: Da-Lite's Ultra Wide Angle Flexible Rear Screen
September 7th, 2010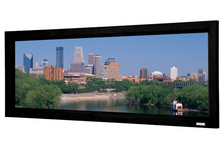 Da-Lite's Ultra Wide Angle Screen is a flexible rear projection fabric formulated for applications where exceptionally wide viewing angles are desired and where ambient light can be controlled.
Based on its ability to diffuse light uniformly, the Ultra Wide Angle fabric is ideal for installations that require multiple screens for edge blending applications, or wide format screens that utilize a projector with a short focal length projection lens. By virtue of its characteristics, Ultra Wide Angle fabric dramatically reduces the potential of hot spotting.
The Ultra Wide Angle Screen is certified in both the GREENGUARD® and GREENGUARD® Children and Schools programs. Da-Lite has the widest array of screen fabrics that have achieved certification through these programs of any manufacturer in the industry.
Ultra Wide Angle Quick Specifications:
Viewing Half Angle: 80°
Gain: 0.70
For more information on the Ultra Wide Angle Screen and our other fabrics, click here. Configuring your next screen? Give Da-Lite's Screen Designer a try!
« View All Posts
« Back