New Tool! Online Screen Designer For Custom Projection Screens
June 4th, 2010
With the move to larger custom projection screen installations, Da-Lite has responded to the market with a new online Screen Designer program that makes specifying a custom Da-Lite screen as easy as following the prompts in the new program. Select screen type, screen size and the screen surface that matches your installation needs.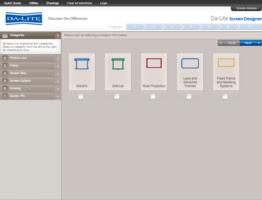 The new Screen Designer helps select the correct size screen for the room with an easy to use application that is designed to eliminate screen sizes that are either too small or too big for the installation. The Screen Designer also helps determine the need for additional screen drop and the distance from the first viewer to the screen as added features of the program.
Da-Lite's new online Screen Designer makes it easier for dealers and integrators to determine the proper screen sizes and accessories along with the correct fabric for any installation, as well as simplify the ordering process. Each screen design can be saved, updated and stored on the Da-Lite website until it's time to release the screen for production.
Da-Lite is long recognized for its dedication to customer service through its national Sales Consultants and in-house Sales Partners. The new Da-Lite Screen Designer is a program that will benefit not only Da-Lite dealers and integrators, but AV consultants and architects as well.
To use the Da-Lite Screen Designer, visit our web site at http://screendesigner.da-lite.com/Default.aspx.
« View All Posts
« Back