Da-Lite's Worship Facility Front Projection Guide
April 11th, 2011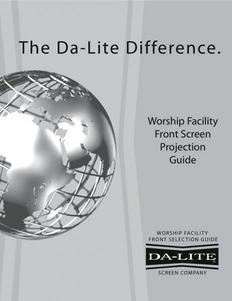 No two worship facilities have the same projection needs. Ambient light, stage lighting, sightlines, ceiling height and a host of other factors make each facility unique. All of these unique situations have problems that need solutions. As the educational leader in the AV industry, Da-Lite always searches for ways to present solutions. That's why Da-Lite has developed the Worship Facility Front Screen Projection Guide.
There's a common misconception that all front projection screens are "matte white". Da-Lite offers a wide array of screens, each with a choice of projection surfaces suited to fit every application.
Da-Lite's Projection Guide will direct you through the selection process step-by-step to help you choose the right screen fabric for any situation and projection method. Da-Lite makes it easy by giving you all the information you need to fully understand the requirements of your individual application followed by an exclusive decision-matrix that actually recommends the right fabric by answering a few easy questions.
The screen fabric recommendations contained in this guide are based on Da-Lite's years of experience as the leader in projection technology. These recommendations take into account all major projection methods. You can expect Da-Lite to add to these recommendations in the future as technology and more options become available.
If your facility needs rear projection help don't worry, Da-Lite has you covered. Just phone one of Da-Lite's knowledgeable Sales Partners at 1-800-622-3737 and they would be happy to assist you. You can also chat with us online!
To download the Worship Facility Front Screen Projection Guide, click here!
« View All Posts
« Back