Surround your audience with the Da-Lite Acoustical Imager
March 7th, 2011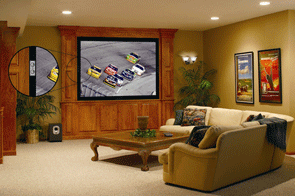 Da-Lite's Acoustical Imager® is a revolutionary projection screen that marries a fixed frame screen with 5.1 Surround Sound. Left, center and right front speakers are integrated into the frame with two table or floor-mounted satellite speakers. Surround sound is provided by JBL and is upgradeable to 6.1 or 7.1 configurations.
The Acoustical Imager® comes standard with Da-Lite's Pro-Trim, a fabric frame covering that aesthetically enhances the appearance of the installation while absorbing light that surrounds the viewing area.

You can choose between Video (4:3) or HDTV (16:9) on eight different projection surfaces, or let Da-Lite build a custom sized screen for your home theater.

All front projection surfaces come standard with black backing for opacity.
For more information on the Da-Lite's Acoustical Imager® click here!
« View All Posts
« Back