Da-Lite Goes Pico
December 27th, 2010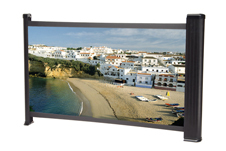 Today, Da-Lite announced the expansion of its portable line of screens to include the new tabletop Pico Screen. This new screen was designed specifically with Pico Projectors in mind and creates the perfect lightweight portable projection system for business meetings, training, gaming and many other applications.
Setup is a breeze, and is as simple as removing the screen from the carrying case, pulling the two halves of the case apart and placing the screen on a table or stand. No latches or feet to deal with!
Fully expanded, the viewing area of the screen is a 30" diagonal HDTV format. Since the screen maintains a constant height and is infinitely adjustable in width, NTSC Video format images (1.33:1 aspect ratio) can be easily achieved to accommodate various source materials. In the closed position, the screen case is only 19" long and weighs 5 pounds.
The Da-Lite Pico Screen comes standard with Video Spectra 1.5 surface.
For more information, click here!
« View All Posts
« Back