New Da-Lite YouTube Videos!
November 11th, 2010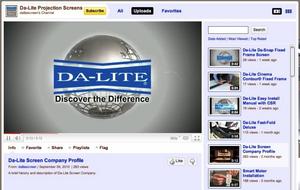 Over the last few weeks, Da-Lite has updated its catalog of videos on YouTube to expand the education and informational offerings to its YouTube followers. If you're not yet following us on YouTube, click here to add us as a friend, subscribe to our YouTube video channel or mark one our videos as your favorite!
A few of the videos that we have added include:
- A new Da-Lite company profile, which includes a brief history and description of Da-Lite Screen Company.
- An overview of the Da-Lite Cinema Contour® Fixed Frame Screen and assembly instructions.
- An overview of the Da-Lite Easy Install Manual with CSR. The attractive satin finish aluminum extruded case design makes Da-Lite's Easy Install Manual with CSR an excellent choice for your next manual screen installation.
- A description and assembly instructions for Da-Lite Screen Company's Fast-Fold® Deluxe portable projection screen system.
- A detailed video on Da-Lite's UPM-1 Universal Projector Mount. The video includes instructions on attaching the mount to a projector, installation and fine tuning adjustment of the projector once it is mounted.
Visit us on YouTube to find out more!
« View All Posts
« Back