Under 'Tension'? A Front Projection Tutorial
September 14th, 2010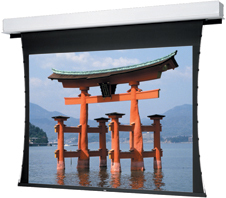 Da-Lite offers most of its Wall and Ceiling Mounted and Ceiling Recessed screens in both non-tensioned and tensioned configurations. These include the Contour® Electrol®, Cosmopolitan® Electrol®, Advantage® and Advantage Deluxe Electrol®, Professional Electrol®, and Executive Electrol® series of screens.
Why is tensioning important in front projection screens? Without constant tension applied horizontally and vertically, screen surfaces are prone to slight surface non-uniformity. This can result from air movement around the projection screen and non-uniform stretching as the screen ages. With most projection applications, slight non-uniformity doesn't dramatically affect the projected image. In HD projection, home theater, large screen applications and other critical viewing environments, tensioning provides near-perfect surface uniformity.
In tensioned configurations, a tab guide cable system of tensioned screens maintains uniform lateral tension to hold surface flat while the custom slat bar with added weight maintains vertical tension.
Unsure of whether your application will benefit from a tensioned screen? Give us a call or view our tensioned screen options and chat with us online… we'll be happy to help!
« View All Posts
« Back