Da-Lite Goes Green(er)
September 1st, 2010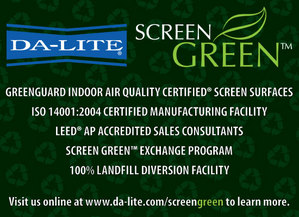 Did you know that Da-Lite is a leading green manufacturer? Da-Lite Screen Company has a very strong commitment to continually improve its environmental policies and has taken another step forward in this endeavor.
Da-Lite's manufacturing facility in Warsaw, IN recently achieved zero-landfill status. This achievement puts Da-Lite Screen Company within an elite class of manufacturers in the United States. So far this year, Da-Lite has recycled over 30 tons of industrial material and has sent over 90 tons of material to a Waste to Energy facility in Central Indiana. That's over 120 tons of waste that has been diverted from landfills in 2010! A typical household puts more trash in the ground than Da-Lite's entire production facility.
The distinction of having a 100% landfill diversion facility adds to an already long list of green and sustainable practices that are occurring at Da-Lite. Besides landfill diversion, Da-Lite's manufacturing facility is ISO 14001:2004 certified. Da-Lite is also a member of the Indiana Environmental Stewardship Program and the United States Green Building Council. Additionally, GREENGUARD® certified fabrics are standard on Da-Lite projection screens and many of Da-Lite's Sales Consultants are LEED® AP accredited.
A commitment to social responsibility, sustainability and the environment are only a few of the reasons why Da-Lite Screen Company is the first name in projection screens. Click here to visit Da-Lite's Screen Green page and learn more about the certifications, programs and download GREENGUARD® certificates for each screen surface.
« View All Posts
« Back