Da-Lite Widens Polacoat Product Offering
January 6th, 2011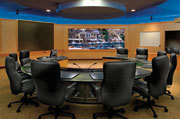 Today Da-Lite announced the expansion of its Polacoat line of rear projection optical coatings with the addition of DA-50 WA, a wide-angle optical coating designed by Da-Lite for its diffusion rear projection screens.
Specifically designed for applications using high-lumen projectors in conjunction with short throw lenses, this optical coating provides wider half-gain angles than traditional coatings, while reducing the incidence of hot spotting. The DA-50 WA coating is unique in its ability to offer a high contrast tint to the projected image while maintaining wide viewing angles. The DA-50 WA offers a 0.5 gain and a generous 60-degree half angle.
The DA-50 WA is available on all Da-Plex screens and is compatible with Da-Lite's full range of factory framing options. For more information on the DA-50 WA or any of the Da-Lite Polacoat Wide-angle Coatings, click here!
« View All Posts
« Back