Da-Lite Fast-Fold Deluxe Gains An Aspect
November 9th, 2010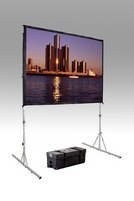 Da-Lite has expanded its Fast-Fold® Deluxe portable screen line to include 16:10 format sizes. The addition of this new aspect ratio was created in response to the increased popularity of Wide Format computer and laptop displays that are now on the market.
16:10 format is rapidly becoming the industry standard for widescreen computers. For this reason, projector manufacturers have developed projector models with resolutions such as 1280x800, 1440x900 or 1920x1200, which are in the 16:10 Wide Format. Fast-Fold® Deluxe is the latest addition to Da-Lite's range of 16:10 Wide Format screen models which now include electric, manual, fixed frame and portable front and rear projection screens.
Da-Lite's Fast-Fold® Deluxe is the presenter's choice for compactness and portability. With Da-Lite's unique folding frame and legs, industry leading selection of front and rear projection screen surfaces and rugged poly case with wheels, Fast-Fold® Deluxe is the worldwide standard for portable, folding projection screens. Whether you are a seasoned staging professional or a novice user, Da-Lite's Fast-Fold® Deluxe is the perfect solution for portable screen applications.
For more information on the Da-Lite Fast-Fold® Deluxe screen, click here!
« View All Posts
« Back