Maintain Your Height with the Multi Format Imager
September 19th, 2010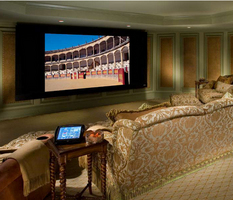 This week, Da-Lite introduces an addition to its line of home theater projection screens with the launch of the Multi Format Imager masking system. In a response to the home theater market demand for screens that can display optional format choices while maintaining a constant height, Da-Lite's new Multi Format Imager allows for sizes up to 16' wide.

With the masking fully retracted, the native aspect ratio of the Multi Format Imager is Cinemascope (2.35:1). With masking, it's possible to achieve Letterbox (1.85:1), HDTV (1.78:1) and NTSC Video (1.33:1) formats. Da-Lite's Multi Format Imager is standard with Pro-Trim finish, which is a fabric frame covering, which aesthetically enhances the appearance of the installation while absorbing light that surrounds the viewing area.

The Multi Format Imager pairs well with Da-Lite's Cinema Contour, Da-Snap or Imager fixed frame projection screens that are available in 13 fabric choices in either front or rear projection styles. Combined with the Multi Format Imager masking system, you can specify a Da-Lite home theater projection screen that's the perfect Da-Lite home theater solution with the desired format choices.
Questions on the Multi Format Imager? Click here!
« View All Posts
« Back